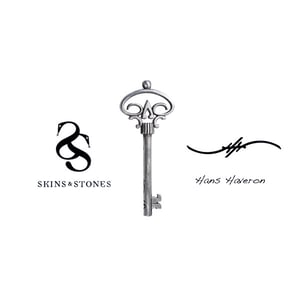 $

95.00
Thank you for being patient. We are going to ship the medium bronze keys on March 20th to reward those that have been patiently waiting to get their keys.
.
We are now releasing a limited 200 mini silver keys
Official Hans Haveron skeleton Key Pendant as seen in the painting "Sepia's Secret", owned by American Idol Star Adam Lambert.The bronze pre-orders sold out in 2 days so get yours here now. I will be shipping these out April 10.
They key comes from Hans Haverons "Sepia's Secret" painting. Recently pop-rocker American Idol Adam Lambert chose an element from the painting as inspiration for his latest tattoo. In "Sepia's Secret" there is a key held by a child that represents the key to unlock the wisdom of the inner creative universe.
The key is .8 x 2 inches made in antiqued Solid Sterling Silver on a black waxed linen cord. Each piece is handmade and hand finished.
Now Shannon Shiang and Hans Haveron have partnered to release the pendant under the Skins and Stones Jewelry line.