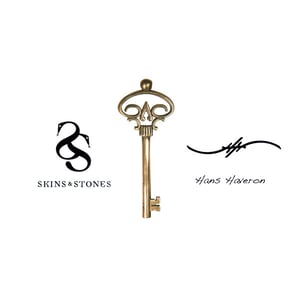 $

29.50
They key comes from Hans Haverons "Sepia's Secret" painting. Recently American Idol Adam Lambert chose an element from the painting as inspiration for his latest tattoo. In "Sepia's Secret" there is a key held by a child that represents the key to unlock the wisdom of the inner creative universe.
The key is .8 x 2 inches made in antiqued bronze on a black waxed linen cord. Each piece is handmade and hand finished.
Now Shannon Shiang and Hans Haveron have partnered to release the pendant under the Skins and Stones Jewelry line.