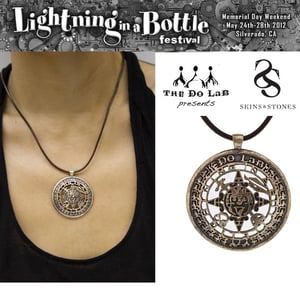 $

30.00 - On Sale
Free Shipping!
Relive the magic of LIB with a memento to have forever.
Skins and Stones has proudly partnered with the DoLab to bring you a piece of jewelry that incorporates the essence of the festival and the spirit of the Mayan Calendar. Around the medallion says, "Lightning in a Bottle" and has the Dolab logos and pods. Also around the Mayan head features symbols of dance, music, art and consciousness the underlying messages of positivity that we all share and love.
The medallion is made out of antiqued bronze with a leather cord.
Normally $40, you can get this shipped out by the holidays with FREE shipping for $30 for the next few weeks only!